The board game genre is steadily growing in traction, as its widespread appeal continues to grow in young consumer culture. As more board game titles with novel art styles and exciting gameplay enter the market, the format provides a great means of social interaction with its combination of relaxation and a thrilling atmosphere. And so the popular domestic animated IP Aotu World hasn't missed a beat in producing its first board game, a title whose enchanting characters, creative gameplay and quality craftsmanship has many waiting eagerly in anticipation of its release.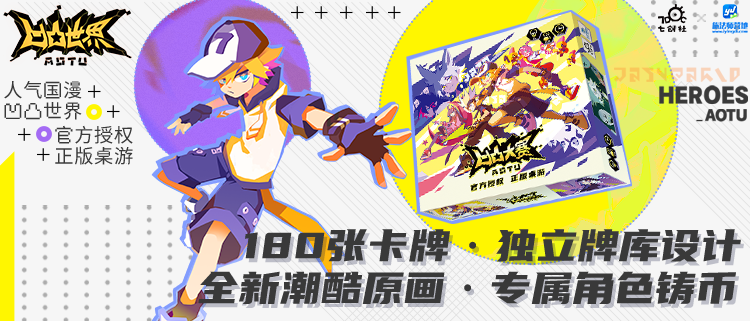 The Aotu World board game promotional poster
Developers of the Aotu World board game, hardcore card e-sports community iYingdi, has boldly stepped forwards in partnership with IP founders 7Doc for a new collaboration in the field of domestic animation derivative works. So as to better cohere with Generation Z audiences' ideas toward board games, iYingdi decided from the start to distance this title from the over-complex rule systems of some hardcore board games. While staying true to the IP's storytelling style and design as a basis, they came up with a clever amalgamation of strategy and gameplay for a release that players can jump straight into.
The game's creativity revolves around its use of cards with social interaction element that players must use as they fight to win. You're given freedom in how to launch the offensive—both sides flip a coin to launch an attack, which is deceivingly simple at first glance, but means it's always possible for the tables to be turned. Guessing the coin toss only adds to the collective fun of the game, and also allows for some great mind games between players, too. Even newbies to the genre can get up to speed in just five minutes. You could even become a serious board game pro in no time flat!

6 new Aotu World character promotional posters
Cards in the new Aotu World board game feature graffiti-style artwork. Each original character's characteristics, custom-made individual decks and a coin-toss attack system all come together to form a game that goes beyond the traditional concepts of board gaming. The trendiness, freedom and individuality of this original creation work wonders alongside the irresistible charm of Aotu World's characters. As for how the game plays, its turns take place with a rapid rhythm and there's always the chance to gain the upper hand: so it's really easy to get started. There's loads of fun to be had in utilizing your abilities and buffs to double your card effects all in a single turn; and even if you want to stick with just a single character, you can still have a blast by mixing up your abilities and cards in hand, too.
Fans at the 28th Comicup stop to check out the Aotu World board game
Having gone through a multi-stage, multi-dimensional offline testing process, we were left with the Aotu World board game you see before you today! The product started its warm-up phase in early June as it went online upon the MoDian platform, and unveiled physical samples at the 28th Comicup, China's biggest creative ACG exhibition. There it was met with widespread fan acclaim, and a lot of interest and excitement for its release.
Preorders for the Aotu World physical board were made officially available on the MoDian platform from 7PM on June 23rd. Those who ordered in the first 72 hours got it at a discount price of 138 RMB. Whether you're getting started with board games or you're a seasoned pro, there's always fun to be had in the competitive Aotu World gameplay this board game brings. It's a title with excellent replay value that offers endless entertainment for families and groups of 2-6 players, so what are you waiting for? Try it out for yourself!